LOADS of Chinese students are looking for conversational English partners. 
Would you like to get PAID to help them?
The NiceTalk app is doing just that. English speakers around the world are logging in and getting paid ten dollars an hour to help Chinese students practice conversational English.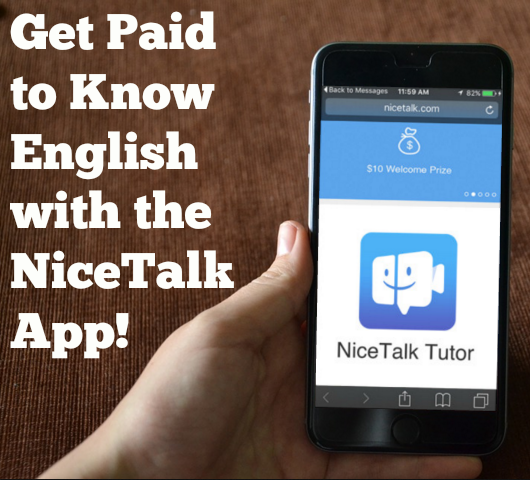 You can chat as much or as little as you like. One of the top tutors told me he was chatting about 6 hours per day and making as much as $350 per week. So, it can become a pretty decent source of extra income.
I've been testing it out and I'm having a lot of fun with it. It feels like I'm getting paid to make new friends and hang out. Already I've met one guy who I have a TON in common with and we've had 3 long chats!
Does it really work?
Yep. After I was accepted as a tutor I started chatting with students right away. New tutors get $10 in their account just for signing up. You can cash out once you've earned at least $20. Pays weekly to PayPal. Here's my first payment…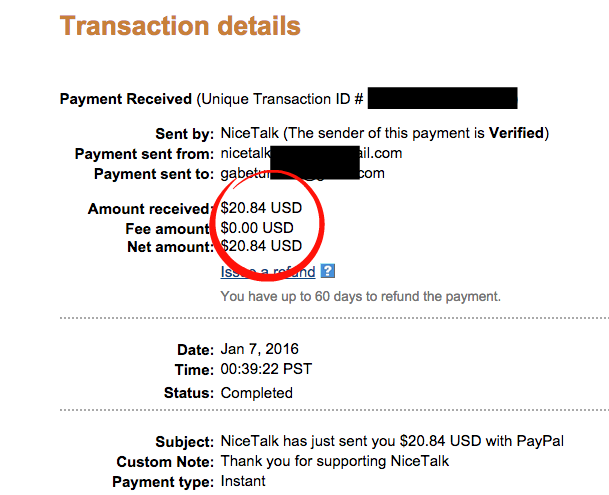 What YOU Need to Have…
1. You need to be fluent in English 
If you speak clearly, you'll be fine. If you happen to have a thick accent you may find that students don't choose you as their tutor quite as often (even if your English is perfect).
If you have TEFL/TESOL/CELTA certification or IELTS/TOEFL teaching experience they'll definitely love you at NiceTalk… but many do just fine without those qualifications.
2. You need fast internet 
Stable and high speed internet access is required. You don't want to be dropping those calls! Your speed is required to consistently be above 300kbps for uploading and 500kbps for downloading.
3. Your smartphone needs to be good
NiceTalk works with Android and iOS. Their site says that phones with iOS 7.0 and Android 4.0 are preferable.
4. You need a quiet environment
You'll need to be able to focus on your students. No chatting in a busy Starbucks or with squealing kids running around in the background.
5. Be patient and friendly
Some students are just beginning and will require a lot of patience. Some speak quite well and it will feel like you're just hanging out (stopping every now and then to correct them with a word or two). Either way, your job is to be helpful to them. If you make it fun and keep things upbeat you'll both enjoy yourselves, and… they'll keep coming back again and again.
How to Get Started…
Click HERE to create your account
You'll see this first…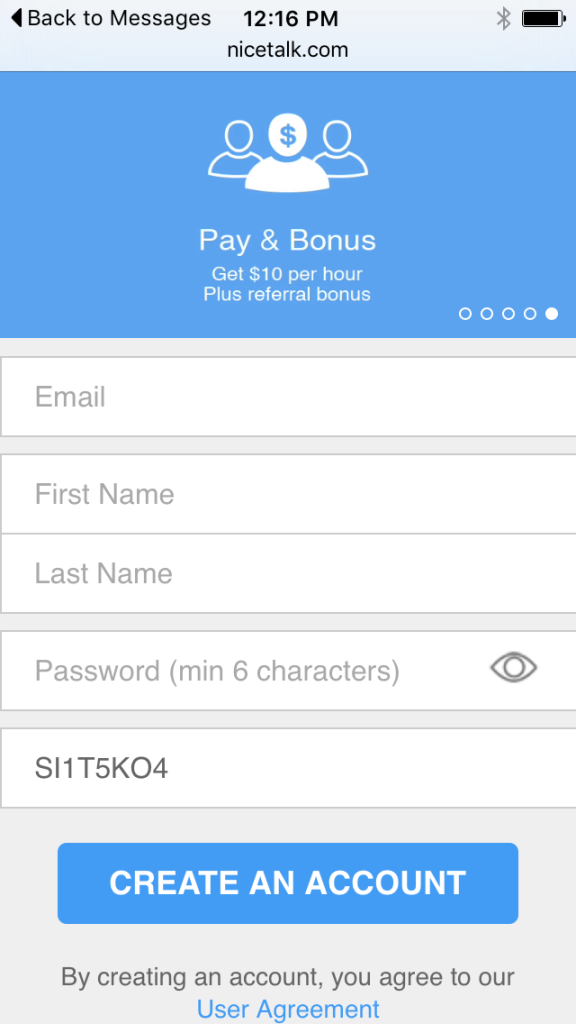 *UPDATE 7/28/16: NiceTalk no longer offers a referral bonus.
Fill out your information to create an account. 
My referral code is in the bottom field. As a way of saying thanks for signing up with my link I've created a private Facebook group to help you get started, share NiceTalk tips, etc. AFTER you've been accepted as a tutor you can request access here.
NEXT… you'll need to download the app…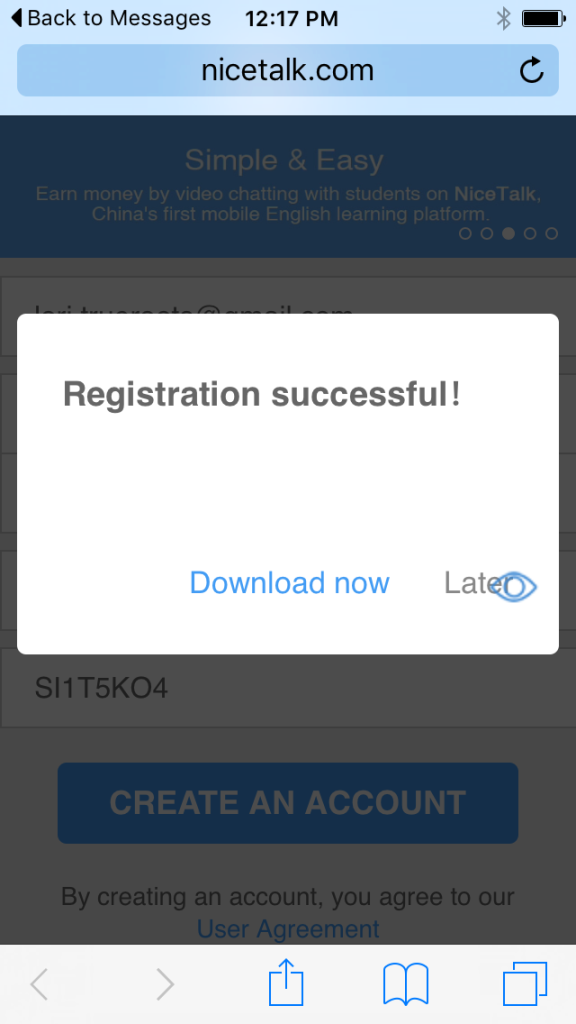 Click "Download now"
Then you'll see this…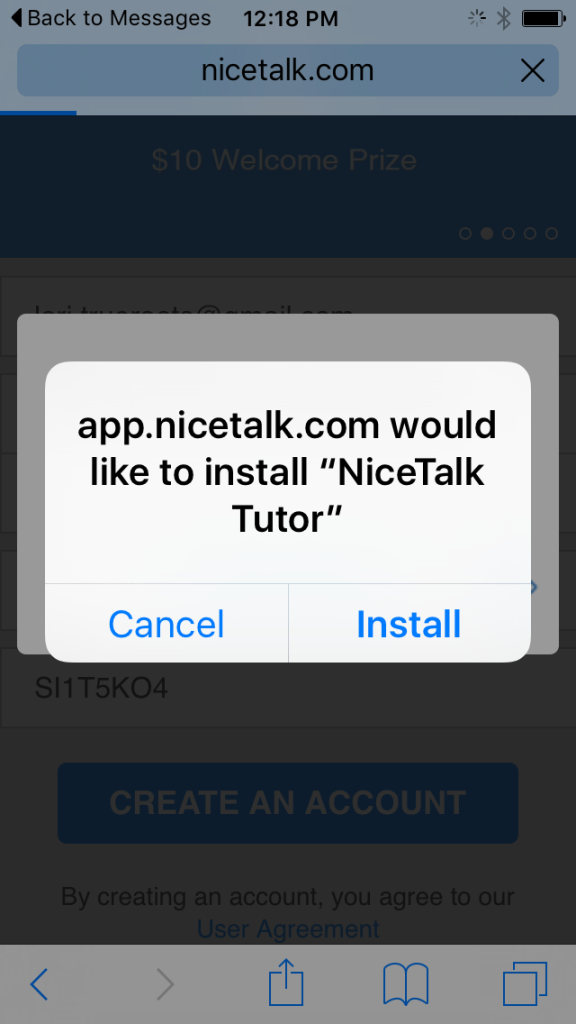 Click "Install"
Then you'll see this…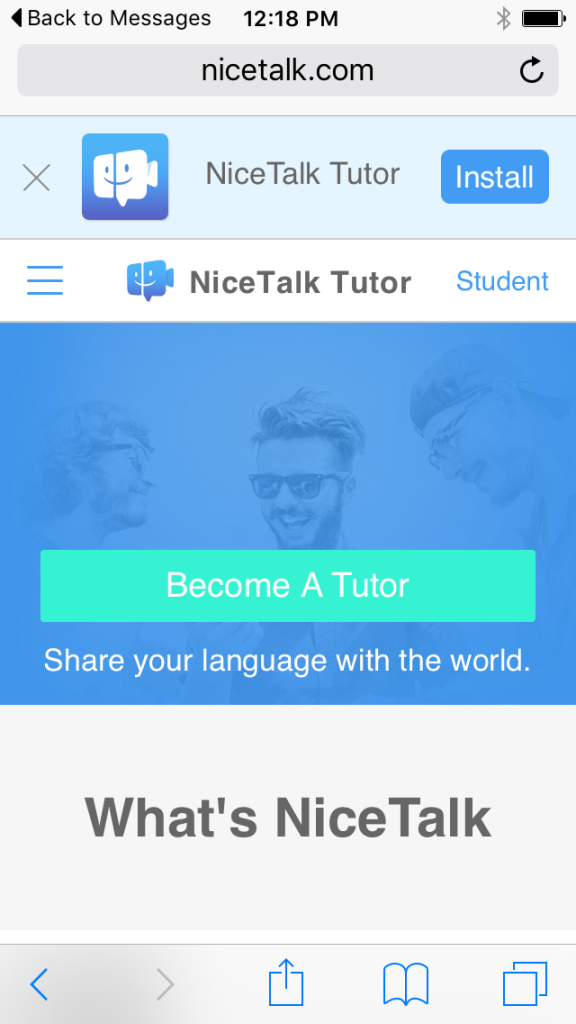 Click "Install" again…
If you're using an iPhone / iPad you may see this message next…
If you see this message, go to Settings > General > Device Management > then choose "Hangzhou Feizhu Technology Co., Ltd"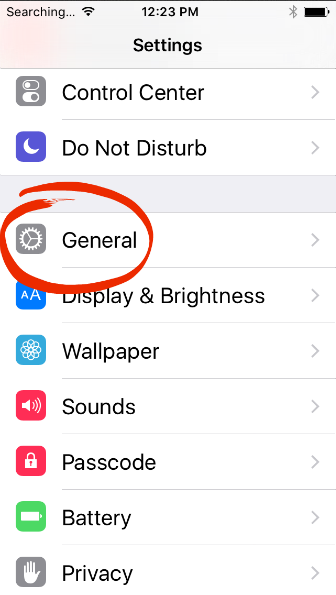 Next…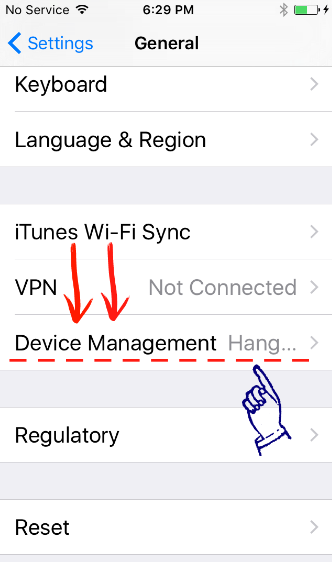 Next…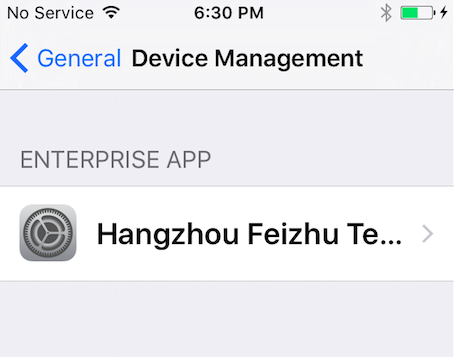 Then you'll see this…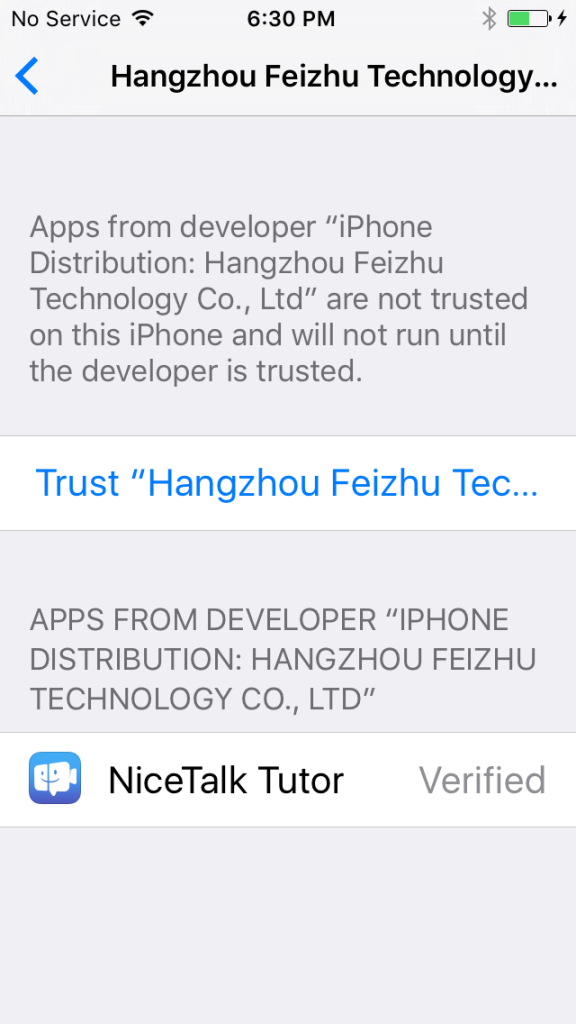 Click "Trust "Hangzhou Feizhu Tec…"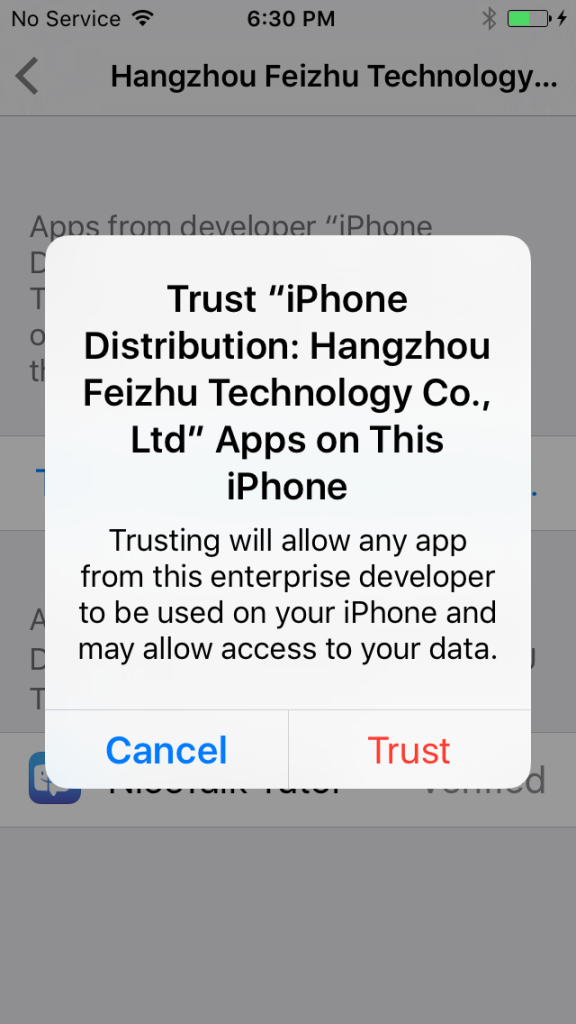 Click "Trust…"
Then you're ready to login!
Since NiceTalk is still a new app (and not yet in the iTunes store) this is the installation process for iOS.
Installation for Android Phones & Tablets is easier…
1. Download the app
2. You might need to allow the app to install within the security settings. 
Next… Record & submit your introduction video
This is kind of like your "audition" for NiceTalk…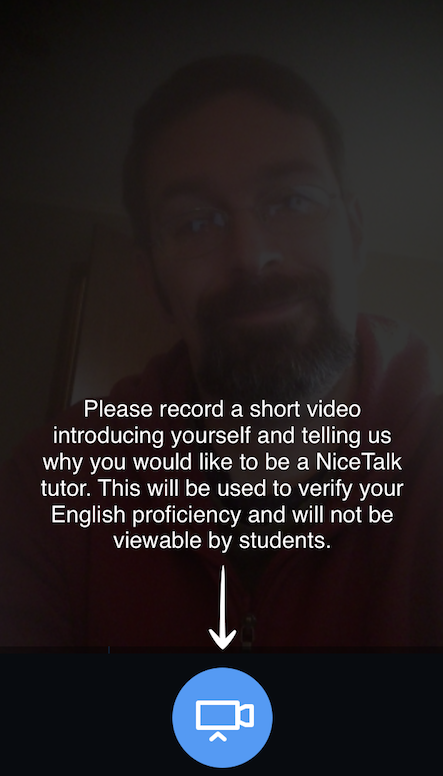 Suggestions for a good intro. video…
Say your name and where you're from

Speak clearly and loudly

Do you have experience with tutoring English?

Do you have teaching experience in any capacity? If so, talk about your experience… 

Has anyone complemented you on your communication / teaching skills? Talk about that.

If you don't have experience teaching / tutoring, that's okay… they mainly just want to see that your English is clear, that you're friendly and can be patient / helpful with students who are learning something new and challenging.

Talk about your interests: What do you like to do for fun? Do you volunteer in your community? Show you're a well-rounded, friendly person who's NOT boring and might be interesting to chat with for a while :).  

Have you been to Asia? If you have experience with the Chinese culture specifically that would be a plus.
TIP: Relax! You have the option to re-record your video if you don't like the first take. If the first one doesn't go so great, just keep doing it over until you're happy with it. 
After submitting your video the approval process takes about two days.
Completing the rest of your profile…
While you're waiting for your video to be approved… go ahead and complete your profile. This is what students will see when they're trying to decide who they're going to choose to chat with. You want yours to stand out!
Add a nice photo of yourself

Fill out the Education section (400 words max)

Fill out the "Introduce Yourself" section (400 words max) – Talk about anything that you think would be interesting to someone meeting you for the first time. 
Here's what I wrote: "Hi I'm Gabe. I have a wife and 2 young kids. I played saxophone professionally for many years but now I'm mainly focused on writing, marketing, social media and online business. I love to travel and have been across much of the western part of the world (North/South America, Africa, Europe, Middle East). I haven't been to Asia yet so it will be fun meeting you :)." 
Fill out the "Interests" section (400 words max) – Talk about what kind of music you like, Movies & TV shows (a lot of the students watch American TV shows), hobbies, etc. A lot of times people will select you because they have something in common. Fill this section (and the "Introduce Yourself" section) out as much as you can.
Record a good profile intro. video
This is the video that the students see and probably the best way to introduce yourself.
Here's the first one I recorded…
Here's the one I'm trying out right now…
TIP: I discovered that the NiceTalk app will not show videos in landscape mode (meaning they are shown in portrait mode but sized smaller). Videos appear best when filmed in portrait mode. 
Suggestions for a good profile intro video:
Record in a well-lit area

Be friendly and engaging – NOT BORING!

Where are you from? What do you do for work? What do you do for fun? etc. etc. etc.

Talk about your interests (just like in the written part of your profile)

Sometimes it helps to be a bit more animated in your face than you might normally be in real life. Give it a shot and see how it goes. You can always delete the video!

Speak clearly and try not to go too fast.

Don't make it too long. Around 1 min. is plenty.

You might want to write down an outline (and keep it out of the shot) to help you stay on track. It can be hard to say everything you want to say in under one minute!  
How long does it take to get accepted?
The process is supposed to take two days. When I applied, there must have been some kind of mix-up because it took six days. This is still a new app (and growing fast) so I cut them some slack. I emailed them and everything got sorted out. If you don't hear back within 3-4 days, send an email to support@nicetalk.com to check up on the status of your application.
Once you're accepted…
Go to the "Home" tab on the app. You'll see this screen…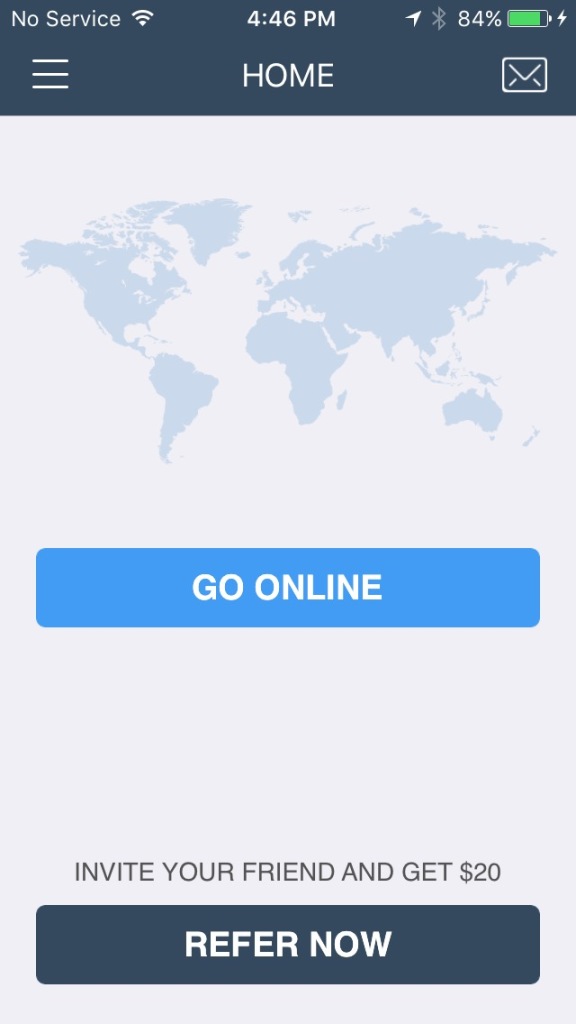 As soon as you tap "Online" you'll be available to chat with students. They'll check out your profile and, if they like what they see, they'll call you.
Best times to reach students in China…
Certain times are better than others when you're talking to people on the other side of the world (at least from the U.S.). I personally leave my phone online for most of the day in the U.S. and don't get very many calls. Not a lot of people are up for practicing their English in the middle of the night. BUT… once I hit the peak time window sometimes I get one call after another! 
Peak Call Times – 4pm – 11pm China Standard Time
For folks in the U.S. that means…
1am – 8am Pacific
2am – 9am Mountain
3am – 10am Central
4am – 11am Eastern
*Fun Fact: China has only ONE time zone.
A few tips for success with NiceTalk…
Choose your talk location wisely… There shouldn't be other people/pets/things distracting you or the student. You both need to be able to focus on the conversation. 

The NiceTalk app has a ranking system based on reviews and time online. The better your rank, the more attractive you are to potential students. 

Don't worry about using other apps while you're waiting for a call. NiceTalk will send you a notification.

Make sure you're ready to talk when you press the "Online" button. If you miss a call twice you will be taken offline automatically. This can also affect your ranking as a tutor. If you go to the restroom or need to do something… take yourself offline first! 

When you're in a call with a student, make use of the chat function so that students can see certain words typed out. After pressing the chat button you'll see a chat area appear over the video screen. Just press the "X" when finished and you'll go back to the video chat.

Don't dominate the conversation. Focus on the student and make sure they are actually practicing their English. Conversations flow differently with different students. Some have an easy back and forth, some are more challenging. Don't let them just give you one word answers, etc.   

Have some conversation topics ready just in case. Some students are beginners and you can talk about simple topics: What did you eat for breakfast today? What do you like to do for fun? etc.  Some are more advanced and you can have quite an in depth conversation: Talk about a difficulty you have overcome in your life, Talk about a person who has inspired you, etc. 

Try to help the student get some real value from the conversation early on. A lot of people are just trying this out and want to see if you're the right tutor for them (there are a lot of others to choose from). Don't be nervous about it… but remember to really seek to help them. If you do that, it's good for everyone. Their English improves and you just might have won a repeat student (and a friend). Ask a few questions to get to know them at the start and then ask them if there's anything specific they'd like to work on.

Don't be shy to stop the conversation and correct them when they mispronounce a word or get a phrase wrong, etc. They'll really appreciate it!

 

Some students will want to use you as their exclusive tutor. At this point, the app has no ability to schedule chats so the two of you will have to agree upon a time to connect. 

Be encouraging! Of course, there's usually room for improvement (and you should be honest about that) but find things about their English to praise them for. A few encouraging words can mean the world to someone learning a difficult skill. 

 
Increase your earnings with the NiceTalk Referral Program…
At the time of this writing NiceTalk pays $20 for each referral that is accepted and chats for 100 minutes on the app. A nice way to increase your earnings, for sure!
Final thoughts…
After two weeks of using the NiceTalk app I'm very pleased with it. I've met so many interesting new people and had some great conversations. I can't believe I get paid to talk about my favorite TV shows, music, current events, and even politics. One of my NiceTalk friends has already called me quite a few times. We've already connected elsewhere on social media because we have so much in common. Maybe I should've called this post: "How to Get Paid to Make New Friends."
The funny thing is… The fact that people are paying you to chat with them isn't weird at all. You have a skill that they want. The way they learn is by practicing with someone like you. It just happens to be something that we take for granted every day.
Apply to be a tutor with NiceTalk HERE
When you're accepted, join the private facebook group HERE. I'll be happy to help get you off and running on the right foot.