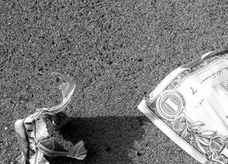 I like finding dollar bills on the street.
You see a bit of green and you think, "What? No, it couldn't be… it IS!"
You look around to see if anyone dropped it…
Nope… Too bad, so sad…
You stuff it into your pocket and go on your merry way.
But what if you saw another one 100 feet away?
And another…  and another…  and another…
You'd probably walk across town all hunched over until you couldn't find any more, right?
Well, what if I told you there was a way to actually snatch up one buckaroo after another…
Sitting. On. Your. Butt?
Check this out…
Freeeats.com has a program that's been paying $1 per referral since October.
Free Eats is a "pay-you-to-view" mobile phone network. Basically, they pay you to view texts that sometimes contain links to check out.
They also send out surveys. I got one during the Super Bowl on which commercials I liked best. It took me 1-2 minutes and I got $1 sent to my PayPal.
I signed up about a month ago and that Super Bowl text was the only one I received.
They promise to send no more than 2 per day. If they get annoying, just tell them to STOP.
The real cash is in referring others, though. It's super easy.Just send them your link and tell them to sign up! No fees. No hoops. No catch.
The limit you can get for referrals is $50 at the moment.
It says on their site that they have $25k in the fund to pay out. They may add more to keep it going but that's it for now.
If I were you, I'd grab some of those bills while they're out there.
Just like I'm doing now.
Sitting. On. My. Butt.
It's a lot easier than walking all over town…
Related Posts:
How to make $1 in 5 minutes online (and maybe even more)
4 Quick Ways to Make Extra Cash Online
Photo:
Greg Dunlap
(creative commons)